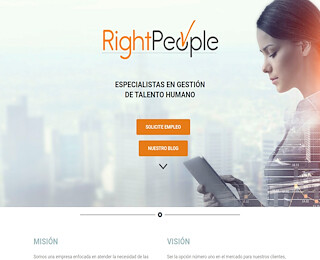 Offerta de Empleo
RightPeople is a company that is devoted to meeting the needs of companies in the HR area. We are able to achieve this by providing agile, strategic and quality tools that guarantee competitive human capital and efficiency.
We aim to be the number one option in the human talent management space while satisfying various HR needs.
What We Offer
Here are some of the services that we offer
Recruitment and Selection of Personnel
We offer you the best candidates who meet the ideal profile to fill the vacant position in your company. We have a database of interviewed candidates in addition to creating the profile of the position and the employment contract. Other services that we offer include:
Publication of vacancies.
Behavioural interviews.
Reference Studies.
Application of Psychometric Tests.
Guarantee of one to three months for the contracted place.
Seminars and Trainings
We have a reputation for offering training that allow our clients to develop different types of skills in their collaborators to improve the performance of their businesses. Our training covers areas like:
Basic Tips, Basic Excel, Intermediate Excel and Pivot Tables.
Emotional Intelligence at Work.
Leadership and Assertive Communication.
Labor Motivation.
Recruitment and effective selection.
Customer service.
Boss or Supervisor for the first time.
Outplacement
With our outplacement service, job seekers get better job options via personalized support in their search for employment. Here's what our outplacement service covers:
Review and structuring of the CV.
Application of Psychotechnical Tests.
Preparation and mock interview.
Verification of References.
Disclosure of CV in HR databases.
Notification of job offers that fits your profile.
Comprehensive HR Advisory
We provide support for HR processes like developing human capital, enhancing your productivity and optimizing businesses. We also help create Pillars of Culture, Job Profiles, Organizational Climate, Performance Evaluation, Compensation and benefits Plans, Induction Plans, salary studies.
Legal advice & labour
We stay current on Labor Legal Matters to provide our clients with the best service per the legal rules and procedures. We also offer support in the legal areas like elaboration of labor policies, employment contracts, conflict resolution, warnings, dismissals and training
Payroll Administration
We also manage payrolls effectively. Some of the processes we handle include inclusion and exclusion of collaborators and presentation of forms of the CCSS and INS, vacation control, calculation of settlements, personnel actions, management of files, calculation process and payroll.
Takeaway
No one in the San Jose area has as much access to job offers as we do. So if you require a job, your best bet would be to check us out.
Contact us for top-notch human talent management services
Are you a corporate organization in need of quality human talent management services? Or you're a prospective employee that needs a healthy work environment to display your skills and nurture your talents? Right People is here to grant your wishes on a platter. We are a leading human talent management firm in San Jose. Our range of services includes labor legal advice, seminars and trainings, payroll administration and outsourcing, comprehensive HR advisory, and much more. Get in touch with us today on +(506) 4010-0199.
Oferta de Empleo